OpenXsensor with Arduino Nano
I recently moved from the Arduino Pro Mini's to the Nano because of several things:
Stable clock @ 16Mhz with low voltages, needed for multi in one sensor configuration.
3.3v output, also used for VREF (Reference voltage for analog sensors, Voltage, Current etc.)
Directly programmable via USB
Cheaper then Pro Mini's
https://github.com/openXsensor/openXsensor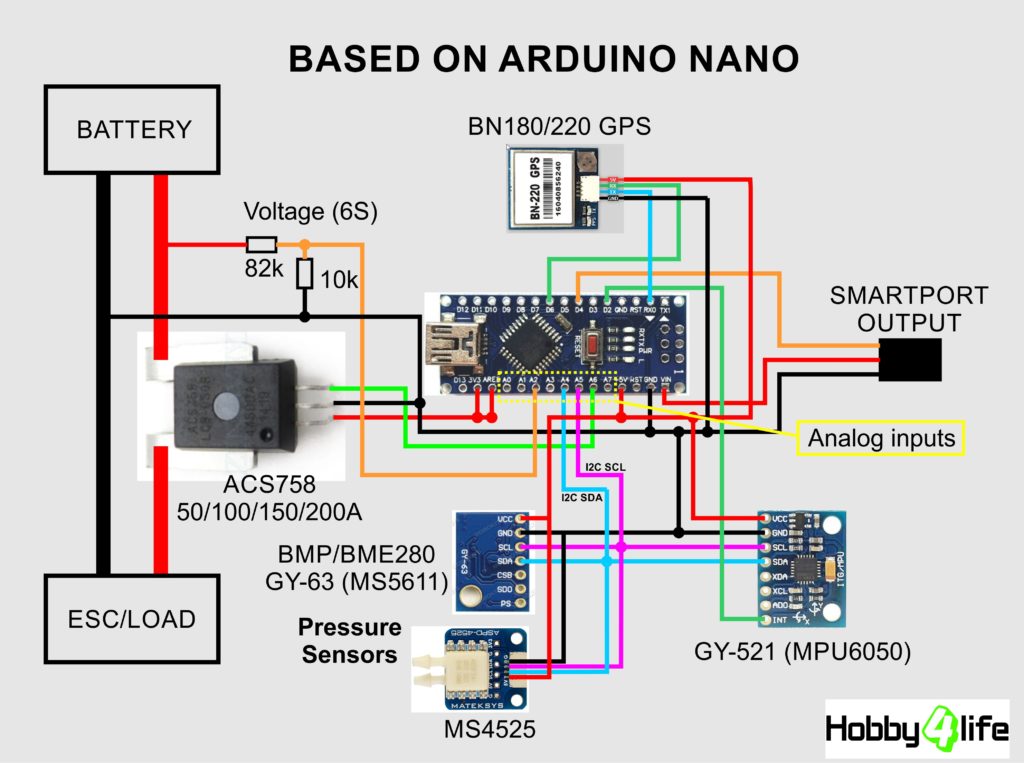 Configuring a current sensor to be used with ETHOS
A big not for who wants to build current sensors for use with ETHOS.
As for now, OpenXsensor sends out negative values arround 0 amps.
These negative values are seen as invalid in Ethos.
Therefore Ethos will eventually call out sensor lost announcements.
To prevent this, we need to be sure OpenXsensor only sends out 0 or positive values.
in the file: openXsensor/oXs_out_frsky.cpp
Search for the following at line 597:
#if defined(ARDUINO_MEASURES_A_CURRENT) && (ARDUINO_MEASURES_A_CURRENT == YES)  
    if ( oXs_Current.currentData.milliAmps.available) {
      oXs_Current.currentData.milliAmps.available = false ; 
      sport_currentData.value = oXs_Current.currentData.milliAmps.value  / 100 ;
      sport_currentData.available = true ;
    }  
#elif defined(AN_ADS1115_IS_CONNECTED) && (AN_ADS1115_IS_CONNECTED == YES ) && defined(ADS_MEASURE) && defined(ADS_CURRENT_BASED_ON)
    if ( oXs_ads1115.adsCurrentData.milliAmps.available ) {
      oXs_ads1115.adsCurrentData.milliAmps.available = false ;
      sport_currentData.value = oXs_ads1115.adsCurrentData.milliAmps.value  / 100 ;
      sport_currentData.available = true ;
    }  
#endif
and change it to:
#if defined(ARDUINO_MEASURES_A_CURRENT) && (ARDUINO_MEASURES_A_CURRENT == YES)  
    if ( oXs_Current.currentData.milliAmps.available) {
      oXs_Current.currentData.milliAmps.available = false ; 
      sport_currentData.value = oXs_Current.currentData.milliAmps.value  / 100 ;
      if (sport_currentData.value >= 0) {
        sport_currentData.available = true ;
      }
    }  
#elif defined(AN_ADS1115_IS_CONNECTED) && (AN_ADS1115_IS_CONNECTED == YES ) && defined(ADS_MEASURE) && defined(ADS_CURRENT_BASED_ON)
    if ( oXs_ads1115.adsCurrentData.milliAmps.available ) {
      oXs_ads1115.adsCurrentData.milliAmps.available = false ;
      sport_currentData.value = oXs_ads1115.adsCurrentData.milliAmps.value  / 100 ;
      if (sport_currentData.value >= 0) {
        sport_currentData.available = true ;
      }
    }  
#endif