Frsky released version v2.0.1 ACCST D16. As with new firmware releases new problems arrise. In this case some of you like to revert back to the previous firmware. But for OpenTX users, this meant they had to reflash back to FROS, and then again put OTX back. But not anymore! 🙂 Raphael Coeffic did some research of the FROS firmware, and managed to retreive the iJXT firmwares of it.


Firmware files below are for OpenTX flashing only.

You can put these .FRK files in the FIRMWARE folder of your openTX SD-Card, and flash the internal module from the SYSTEM menu, directly.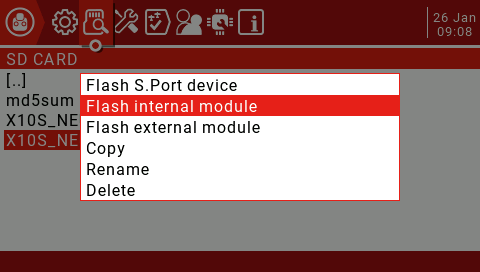 DOWNLOADS
To download, in some browsers you need to right click "save as"
X10(S)
X10(S) EU/LBT v1.3.06
X10(S) FCC v1.1.04
X10(S) FCC v1.3.06

X12S
X12S EU/LBT v1.6.06
X12S FCC v1.6.06

Credits go to: Raphael Coeffic
We are sorry that this post was not useful for you!
Let us improve this post!
Tell us how we can improve this post?